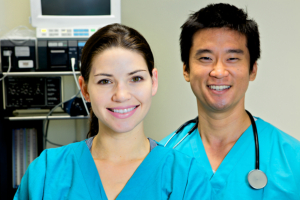 Deciding to go to school for surgical physician assistant training is a big step. To be successful, you have to make a plan. Here are a few tips to get you ready.
1. Finish high school. You must have a high school diploma or equivalent to start surgical assistant training.
2. Figure out how you will pay for school. One of the great things about CNI is that it is cheaper than a 4-year school. However, it's still a big financial commitment. Tuition for the program is $27,996, while books and supplies cost $1,452. Federal financial aid is available, both grants and loans. Before you take out loans, be sure you understand the repayment schedule.
Do Your Research Before You Start Surgical Assistant Training
3. Read the course catalog. Be sure you understand all the policies. Pay attention to the attendance policy. You must attend the majority of classes to pass. Surgical physician assistant training is mostly hands-on. Because you have to practice your skills, you have to be in class. Be sure to read all about the surgical tech program.
4. Read through the employment disclosures. Remember that graduating on time is vital to future success. Clear your schedule for the next 15 months. Then buckle down and study hard.
5. Make an appointment to tour the campus. At the same time, talk to the admissions counselors. Get a plan in place to start at CNI.