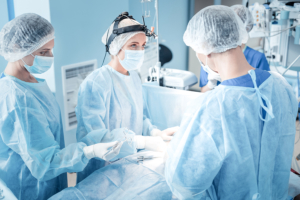 Becoming a surgical assistant can be very exciting and rewarding. It is also a great choice because there are many different types of surgeons you could work with. Therefore, you could look into working in an area that interests you. Some surgeons work within a very broad scope and others are highly specialized.
A broad range of expertise is very important for general surgeons. These surgeons can perform many types of surgeries and need to have a very good understanding of general anatomy, surgical procedures, and post-operative care. A surgical assistant must be ready to help with gastrointestinal, colorectal, liver surgery, and a wide range of many others.
Decide What Type of Surgeon You Want to Help During Surgical Tech School
Many surgeons decide to focus on specific organs and systems. They may choose to specialize in the cardiovascular or endocrine system. A surgeon may tackle back surgeries or be an expert in nerve damage. When a condition arises that requires surgery, a patient can be referred to an expert in that field.
Becoming a pediatric surgeon is also very specialized. It is vital to understand the developing body in this field. These surgeons undergo additional extensive training in children's surgery. They often also specialize in an area that might include plastic surgery, urology, neurosurgery, or general surgery.
Anyone who thrives while working under pressure can consider assisting a trauma surgeon. These surgeons work on severely injured patients who sometimes can even be near death. This can be very rewarding but also very stressful. It would be hard for surgical tech school to truly prepare you for helping work with a surgeon in a life or death situation. However, as you build up your experience, you will be able to assist in these high pressure situations.
Think about what type of surgeon you would like to work for. What kind of surgeries would you like to be assisting with? Do you have a passion for young children, thrive in high stress life or death situations, or have a special interest in a particular organ system? There are many possibilities and a rewarding career is awaiting you in this field.