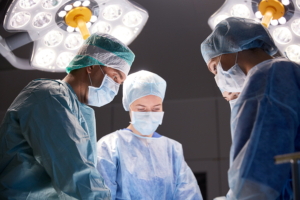 Becoming a surgical assistant nurse is a process that starts with basic skills and classroom lectures. Instructors drill students in anatomy and physiology. They also go over medical terms and how to keep the OR sterile. Classroom time focuses on medical ethics and how sedation works. Once students have the basics, they move on to hands-on training. The operating room can be a high-stress place. So surgical physician assistant training gives students many chances to hone their skills.
Surgical Physician Assistant Training at CNI Has Many Opportunities to Practice
There are four modules of mock surgery for surgical assistant nurse training. Each one works on general surgery skills, as well as specialized skills. So students work on both adult and child surgeries. They get training in OB/GYN surgery and ENT surgeries. They also practice plastic surgery. Students go over orthopedic surgery. Then they learn about issues in heart surgery. During each mock surgery, students work on keeping everything sterile in the set up and during the procedures. Finally, students get mock clearance and also learn CPR.
Once students are done with mock surgery, they are ready for their externships. This is when they get to shadow surgical techs. At first they just watch real surgeries in action. When they are ready, they get to help in surgeries by themselves.
If you're someone who enjoys routine but also plenty of challenge, check out CNI's surgical tech program.