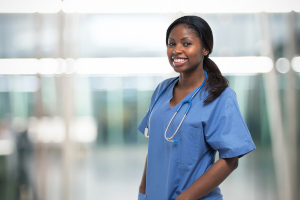 Becoming a licensed vocational nurse (LVN) is a great career path. It combines both practical medical knowledge and compassionate patient care. In order to begin an LVN certification program, you must have either a high school diploma or passed the GED. The program is designed for either full time or part time students. There are four terms of classwork. Each term is 13 weeks long for full time students and 20 weeks long for part time. This means that going full time, you can finish an LVN program in about a year. A part time student will finish in about a year and a half. While LVN school is a big time investment, it's not nearly as long as getting an associate's or bachelor's degree.
All of the classes in the LVN program at CNI College have both a theoretical and practical component. This means that students get to apply their learning right away. They acquire and practice real-world skills throughout their program. The last course of the program is a review of all material with a focus on getting ready for the National Council Licensure Examination (NCLEX- PN). In order to work as an LVN, you have to pass the exam. Not only that, you have to pass all your classes with a grade of 75% or above.
Searching LVN Programs Near Me? Don't Miss CNI College
Chances are, if you live in Orange County, CNI College comes up when you search "LVN programs near me". This is because CNI has been active in the allied health education field in 1994. The program at CNI is time-tested and strong. CNI graduates populate the staff of many medical offices, nursing homes, and hospitals throughout the region. Learn more about getting LVN certification at CNI College. Read over course descriptions. Check out the performance fact sheet, which shows graduation rates and exam pass rates for the past several years. When you're ready to start, call the admissions office at 888.976.5120.