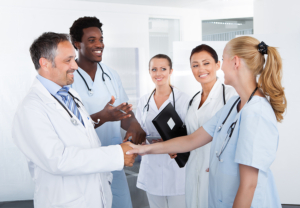 One of the questions people have when researching surgical school is how they will get hired once they have finished their studies. CNI College offers several services to help students find a job as a surgical assistant after graduation. The college does not offer a guarantee of employment, but the Career Services Department works hard to help graduates find great jobs. The department offers workshops and seminars so graduates can polish their resumes, get assistance filling out job applications, work on interviewing and presentation skills, and get pointers for professional attire. The department offers networking opportunities and works with students to develop a networking strategy.
Get Help Finding a Job as a Surgical Assistant
Surgical school graduates who are interested in career placement help from the Career Services Department should submit a personal resume to the Career Services Advisor. After that, graduates can meet with an advisor to discuss career plans. The department works with hospitals and clinics in the community to keep up with job openings. Of the students who graduated from the surgical tech program in 2014, all who were eligible for employment found jobs in their field. CNI College is proud that so many of the graduates from all its programs are able to find good jobs in the community. Visit the student services page to find out more about how CNI prepares graduates for the working world.