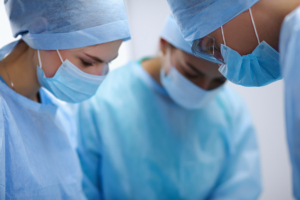 Anyone researching schools for surgical assistant training has to weigh many factors. The cost of the program is important. How long it takes to finish the course matters. The reputation of the school is also important to know. So is going to a school that is accredited. CNI College has accreditation by three different bodies. Firstly, the Accrediting Bureau of Health Education Schools (ABHES) approves CNI. Finally, CNI has approval from the Bureau for Private Postsecondary Education (BPPE).
Surgical Physician Assistant Training at CNI Opens the Door to Great Jobs
There are a couple of reasons why this is vital. First of all, in order to become a Certified Surgical Technologist (CST), grads have to take an exam.  The standard exam is from the National Board of Surgical Technology and Surgical Assisting (NBSTSA). Grads can only take the exam if they graduated from a CAAHEP or ABHES approved school. You can only work as a surgical tech once you pass the test. Going to a school with the right accreditation is vital for your future.
Furthermore, when you go to get a job after surgical physician assistant training, employers want to know what school you went to. They'll also ask about accreditation. An accredited school has to follow certain standards. So employers will know that you have the right training. This makes employers more likely to hire grads from CNI's surgical assistant training program.
Find out more about the surgical tech program. See if it's right for you. The program only takes about a year to finish.  This means that you could be working an exciting and challenging job very soon.  Make an appointment to see the admissions counselors today. They can answer your questions about the program.  They'll also help you get everything ready to apply to CNI. Be sure to ask about financial aid, too. Students can get loans and grants to help pay for school. CNI also helps its grads find great jobs.