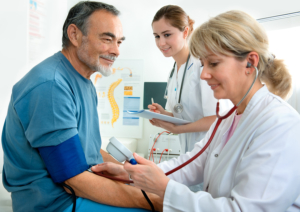 Explore a career in the medical world by obtaining a medical assistant certification. CNI College provides top instruction at their Medical Assistant School. Students graduate ready to excel and achieve certification. Medical assistant certification is not always necessary for positions in California. But having it means you are a step above the competition.
Medical assistants are important in the medical industry. These professionals are vital support staff. A variety of tasks are part of the daily routine. Medical assistants filling out forms and prepping exam rooms. They also monitor patient vital signs and help with procedures. Students will also learn to interact with patients and their families.  They learn how to be on a team with other medical staff and administrative workers. Students drill in all of these important skills while in the program.
Research Medical Assistant Colleges to Start a New Career
Demand for workers in the medical field continues to grow. There is a lot of potential for career growth. Those finishing the course are well prepared to begin either of two paths.  Some students choose to work in a clinic or hospital. But others find they do well with administrative work. Students who qualify can get federal financial aid. Graduates of the program are eligible to take the certification exam.
A leader in the world of medical assistant colleges, CNI College has played a significant role in helping students step forward into a successful career. Read about the medical assisting program. Or contact CNI College at 888.220.3701. Begin a journey toward a job as a medical assistant today.