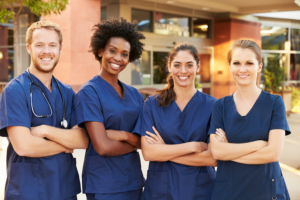 Consider surgical tech school if you want to be working in the medical field in a little over a year. Students who take surgical assistant classes on the day time schedule finish in 14 months. Evening students take 16 months to finish. In addition, the short length of surgical tech school is attractive to many students. After surgical tech school, grads tend to make a good living wage. For example, the national median hourly wage for surgical techs is $21.31. The median hourly rate in California is $28.01. Nationally, entry level positions pay an average of $15 an hour. In California, the lowest wages are $19.56 an hour. With experience, you can expect to make more than the median. Finally, surgical techs are able to work regular hours. The job is challenging. And the work environment is usually comfortable.
Get Surgical Assistant Certification
Although California wages are higher, some people look forward to moving to a state with a lower cost of living. After surgical tech school, grads who want certification must pass the National Certifying Examination. The exam is given by the National Board of Surgical Technology and Surgical Assisting. Having a national certification makes it easier to move where jobs are plentiful and living costs are low.
Learn more about becoming a surgical assistant at CNI College.  Also be sure to look over the course descriptions in the course catalog. Check out school policies, too.  Be sure you understand the expectations for CNI students. It's important that you can attend all your courses. And make time to study. Graduating on time is vital to success. So, save up money for tuition. Work with your boss to get a flexible work schedule. Let your family know you're going to school. Then schedule an appointment with the admissions office. They will help you get ready to start!