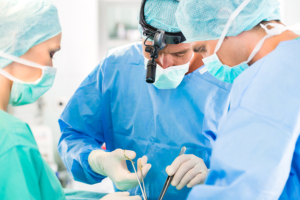 If you're thinking of a career to pursue after high school or of making a change, consider your strengths and interests. Some people are really good at keeping track of details and enjoy a mix of routine and unexpected challenges. If that describes you, surgical technician college could be a great choice. Surgical techs (or scrub techs) are responsible for many details to keep an operating room ready to go. They keep supplies stocked. Sterilizing instruments is also their job. Techs are in charge of keeping the operating room itself clean and sterile, too.
Get Hands-on Practice in Scrub Tech Classes
Before a surgery, the scrub tech will lay out the instruments for the procedure. The scrub tech will also prepare the patient for surgery by getting them on the operating table and setting up the surgical drapes. Then they will clean or shave the surgical site. Next, the tech will help the doctors and nurses scrub in. That is, to wash their hands and put on gowns and gloves. Once surgery begins, the tech has more to do. They give the surgeon instruments and bandages when needed. They might also help with the surgery itself by suctioning, suturing, or keeping tissue out of the way.
During surgical technician college and in scrub tech classes, students practice all of these skills. CNI College really emphasizes practice with both mock surgeries and the clinical externship. Get in touch with us to tour the school.