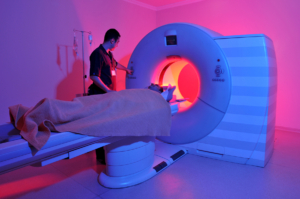 One of the reasons to choose CNI College to learn to do magnetic resonance imaging is because of the importance hands-on training has in the program. The MRI program includes six modules of 720 hours of classroom instruction and 1000 hours of clinical externship. The externship is where students are able to put their lectures, labs, and readings into practice. They work alongside already certified MRI techs, as well as doctors and nurses. It is in the hands-on portion of course work that students really learn how to conduct magnetic resonance imaging. They also become comfortable with the way a professional office works at a day-to-day level.
CNI College's MRI Program Includes Clinical Externship
During the externship, students first observe how MRIs are done. They see how to get high-quality images and when to alter protocols based on a patient's condition or pathology. Once they have observed the process, students are allowed to work under direct supervision. After students demonstrate proficiency, they may take images with indirect supervision. This is the way students gain experience and expertise as MRI techs.
Since 1994, CNI College has been working with clinics in the community to help students gain experience and confidence in their field. Find out more about the MRI tech program to find an exciting and growing career.