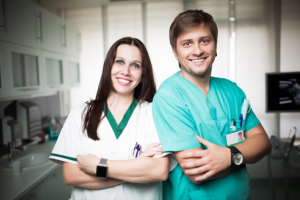 Those who complete LVN programs at CNI College are not alone in their job search. The Career Services Department is here to help. Although the department cannot guarantee employment, your chances are certainly better working with them. Graduates of CNI already have one step up by completing LVN programs at an accredited school. This is important for employers. To utilize the guidance of Career Services, students must have completed all graduation requirements. They must also return all books and equipment and submit a resume to a Career Services Advisor. Students need to also attend a Financial Aid Exit Interview to ensure they are all paid up.
After LVN School, CNI Offers Job Hunting Help
Once all of these things are done, students can get some great guidance in securing a good paying position. Students and graduates can learn about the hiring process and what to expect. Attend professional attire workshops and get help with writing resumes and filling out job applications. Brush up on interviewing skills and get advice on where to look for jobs. Tap into the the job leads and network of the school. Employers want to know that their staff is well trained. Therefore, they will seek out potential employees from good schools like CNI. All students must also do work on their own to search for open jobs. Keep records of any contacts made and keep in touch with the Career Services Specialist.
The Career Services Department can really be a big help after finishing LVN School. Let all of your hard work pay off in landing your dream job. It takes work to get your foot in the door. It will be all worth it once that paycheck starts coming. Check in with Career Services today to see what advice they can give. Whether you are still a student or a graduate, this department can get you going in the right direction.