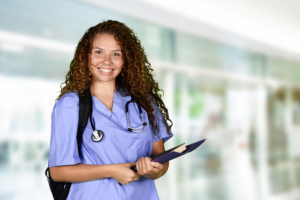 There are many things to consider when choosing a school for your LVN certification. You want to make sure that you find the right fit. There are many options in California. The first place to start is finding an approved program. The Board of Vocational Nursing and Psychiatric Technicians has approved over 100 different programs. Once you find an approved program in the area you want, there are a few other things to look at. What is the school's reputation? How much does it cost to go there? Can you get in? Could there be a waiting list? Do some research and decide what is most important to you.
Searching LVN Programs Near Me? Check out CNI's NCLEX-PN Pass Rate!
When wondering what LVN programs near me are the best, there are a few things to look at. All graduates will need to pass the NCLEX-PN so it is a good idea to look at the school's pass rates for this exam. Also take a look at the facilities and the reputation of the instructors. Are there job placement services available to students? Have past students found jobs quickly? How many students start and then actually complete the program? The good news is even though the program may look expensive now, wages should be good in the future.
Another big piece to keep in mind when choosing a school for your LVN certification is the admission process. Some programs have only 30 slots open per year. These slots can be competitive. Schools can use various methods, like a point system, for choosing who gets in. Schools often look at TEAS (Test of Essential Academic Skills) scores. They might also look at science scores and could favor those with past healthcare credentials. Others may be more likely to admit students who live close to the school. Many programs also may be more likely to take students who missed the cut in a previous year.
CNI College has been operating in Orange County for over 30 years. Take a look at our LVN program, then give us a call to talk to an admissions counselor.