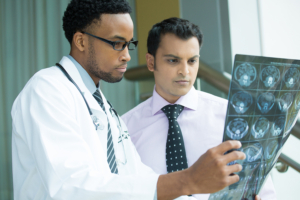 At CNI College, we know that hands-on training is vital for a good MRI technician school. We pride ourselves on our challenging classroom courses. We're also proud to offer a final clinical externship for our students. Students learn the basics of anatomy, physiology, ethics, medical law, and taking MRIs in MRI college courses. But it is in the clinical externship that they get a chance to really hone their skills.
Practice makes perfect in most fields, and MRI technology is no different. Students watch professionals at work during their externships and get valuable tips. They also get to practice taking images themselves. At first, they only assist. As their skills get better, they take the images independently, with a mentor looking on.
Hands-on Learning Is the Key for MRI College
Students also learn how to work with patients during the externship. Many people are nervous during an MRI. It is the tech's job to help them stay calm and put to rest any fears they have about the procedure. A kind MRI tech is a true asset at a clinic. Finally, students learn how to work in a medical office. They put their training in ethics into practice. They learn how best to work as a team with the doctors and radiologists to get good images.
Visit CNI College to find more information about MRI technician school.