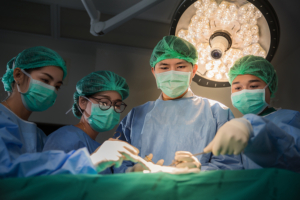 Make a difference and save lives as a surgical technician. You'll learn about patient care, sterilization, anesthesia and microbiology. You'll also learn how to stay calm in high-pressure situations.
The U.S. News ranked this position as #24 in Best Health Care Support Jobs. The Bureau of Labor Statistics predicts the employment need for surgical techs will increase 15% by 2024. Surgical techs are desperately needed.
The surgical tech program at CNI College prepares students for the National Board of Surgical Technology and Surgical Assisting (NBSTSA). After initial study, the exam and a 500 hour externship has been completed, program graduates earn the title of Certified Surgical Technologist (CST). A CST provides life-saving knowledge and procedures in surgical situations.
Train as a Surgical Technician in Under 2 Years
CNI College gives you the skills to become a valued member of a surgical team. The program lasts 15 months and is very comprehensive. Part of your in-residence training requires participating in mock surgeries. Work alongside surgeons and anesthesiologists. Get trained by professionals who are currently practicing medicine. Receive book and technical knowledge too, as you learn about advanced sterilization methods and best practices. CNI College can jumpstart your career and help you embark on a professional path.