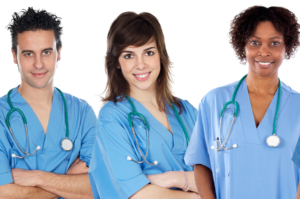 Anyone thinking about going to LVN school is going to need to do some research. An LVN program (also called LPN) is less of a time and financial commitment than a four-year college or nursing program. As you search LVN program near me, make sure you're making a list of accredited schools. This is important because employers will look at your school's accreditation. Also, if you decide to complete an RN later, you need to go to an accredited school. CNI College has accreditation from the Accrediting Bureau of Health Education Schools. It's also approved by the Board of Vocational Nursing and Psychiatric Technicians and the Bureau for Private Postsecondary Education. You also want to look at the NCLEX pass rate. Over the past six years, an average of 88% of students at CNI have passed the exam.
Research and Visit Several Schools to Get the Most from LPN Certification
Finances are also important. Find out how each school gives out financial aid. Does it lean more toward loans or grants and scholarships? You also need to decide how much of a commute you want to deal with. Classes are held everyday in most programs. A long commute will make you more tired and cut into study time. When you have a number of possible programs after searching LVN program near me, figure out how long it will take you to get to and from class. Take traffic into account, too.
It's a smart idea to think carefully about what you want to get out of LPN certification and which school offers that. You need to think about how you learn best. Some people enjoy a big lecture hall, while others prefer smaller classes. Plenty of time practicing necessary skills is important as well. Most programs will include a practical clinical aspect. If you have a particular area that you want to work in, make sure the program you choose has connections to clinics with that speciality. You'll want to visit several schools to get a feel for the program, beyond facts and figures.
Visit CNI's LVN course of study online, then make an appointment to visit and talk to the administration.