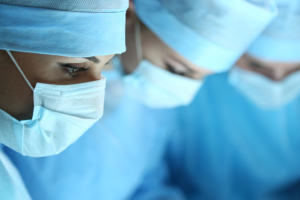 If you're thinking about going to surgical tech school, you need to be ready to commit to the program. Instructors remember students who come to class every time and work hard. During the externship, dedicated students impress their supervisors. These students get the best recommendations when they start their job searches. By law, CNI College keeps records of graduation and employment rates. The most recent numbers are from the class of 2015. There were 57 students who started the program. Of those, nine graduated on time. Another 29 students finished within 150% of the time allowed. This means that 67% of the students who began the surgical tech program finished within a reasonable timeframe.
Aim to Graduate On Time to Get the Best Surgical Tech Jobs
CNI's surgical tech school only keeps employment records for students who graduate on time. Of the nine on-time grads in 2015, seven were working in the field within six months of graduation. Five worked an average of less than 32 hours a week, while two worked more than 32 hours a week. Four of these grads were making between $35,000 and $40,000 a year. One was making between $15,000 and $20,000. Another was making between $20,000 and $25,000. The last grad was making between $40,000 and $45,000. Click here to see the full disclosure page.
Find out more about the surgical tech program at CNI college.