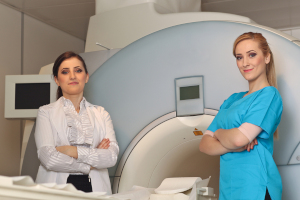 There are many reasons to consider becoming an MRI technologist. One of the best parts is that it only takes two years of school to make a respectable amount of money. The average starting salary is $46,500 per year. That is just the beginning. If you specialize, you could make around $100,000 per year. Go on to get a bachelor's degree to become a radiologist and make between $300,000 to $500,000 a year. There is also a large demand for workers in the medical field. The outlook for job security is good. It should be easy to get a job, and an MRI technologist can find a job anywhere. Move to a new city just for fun or look for something close to home.
There Are Lots of Ways to Specialize in Magnetic Resonance Imaging
You will not be bored being a magnetic resonance imaging technologist. You get to move around and interact with people. There are also varying tasks involved. Spend time at a computer, mix chemicals for imaging, position patients, and operate some pretty cool equipment. Work alone or as part of a team. Feel good about helping people. When you make a patient feel comfortable when having an MRI, you have done a good deed. These tests can make a patient nervous and by being kind and helpful, you will totally make their day.
MRI technologists can also have pretty good schedules. Although you may start out on the night shift, you should get better hours in time. As you work up the ladder, you can regularly get weekends off. Schedules also often include working 4 long days a week and having 3 days off. Who wouldn't love consistent long weekends? Look for jobs in hospitals or other healthcare facilities. Work hours will likely be different depending on the facility you choose to work in.
Get started by looking at CNI's MRI program. Then give our admissions office a call to start the application process.