CNI College Alumni Network
Building Connections, Inspiring Success
Are you a proud graduate of CNI College? We invite you to join our vibrant alumni community and become a part of something special. Our Alumni Program is designed with you in mind, aiming to strengthen connections, foster communication, and promote the success of our graduates.
Goals of the CNI College Alumni Program
At CNI College, our commitment to our graduates extends far beyond the classroom. Our Alumni Program is designed with four key goals in mind, all centered around enhancing your experience and success as a CNI College alum. These goals encompass connecting you with a dynamic community of fellow alumni, keeping you informed about the latest campus news, strengthening the relationships you've built during your time here, and actively promoting your ongoing success. Explore how our Alumni Program achieves these objectives and empowers you to thrive both personally and professionally.
Connecting fellow CNI College Alumni
Communicating CNI College News
Strengthening Graduate Relationships
Promoting Alumni Success
1. Connecting Fellow CNI College Alumni
Our alumni network is a hub of like-minded professionals who have walked the same path as you. Connect with old friends, make new ones, and tap into a valuable support system that understands the unique experiences and challenges of your educational journey.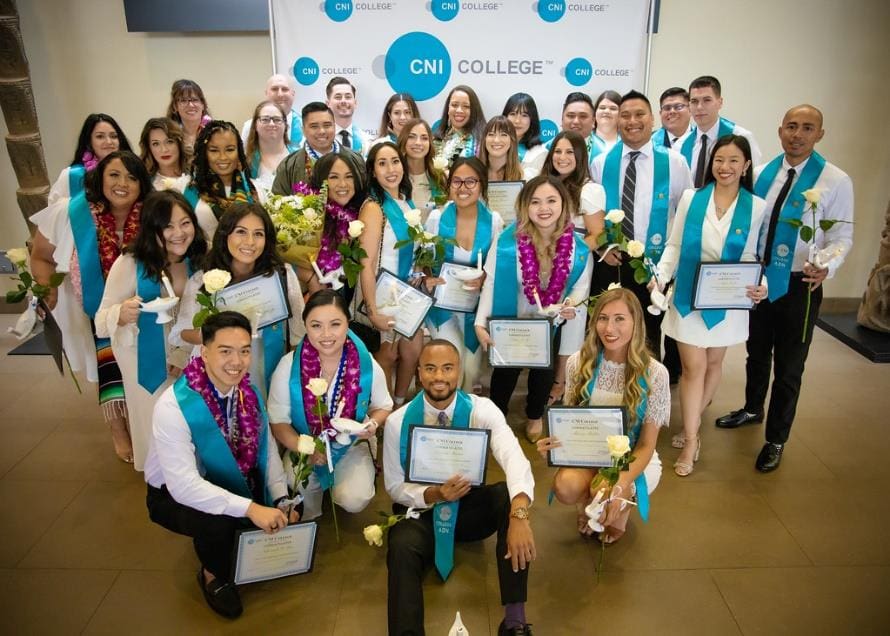 2. Communicating CNI College News
Stay informed about the latest happenings at CNI College. From exciting campus developments to program updates and educational advancements, our alumni receive exclusive insights into the world of CNI College.
3. Strengthening Graduate Relationships
Our alumni program is all about fostering strong, lifelong connections. Share your experiences, offer guidance, and be part of a network that continually supports one another's personal and professional growth.
4. Promoting Alumni Success
We take pride in our graduates' achievements. Joining our alumni program allows you to celebrate your success, inspire current students with your journey, and continue growing professionally with access to valuable resources.
CNI College
Welcomes a New and Exciting Year in 2023
"We are here to deepen our connections through career guidance and celebration…"
CNI College Alumni,
Welcome to the new year!
Wow – another year and we are excited to meet here once again with all of you!
Our journey together in 2023 is going to be full of interesting and eventful items connecting both students and esteemed alumni of CNI College. You are the models to our students, you achieved, and you accomplished – you are a snapshot of their future. We would really like to hear about your professional journey and to be able to share your successes with our students.
Since your journey here, our employer relationships continue to grow and have become long-lasting. As you are aware, the healthcare industry is ever changing, and we are proud you are and have been an important part of this change.
We are looking forward to connecting with you in the months to come to share and celebrate the new successes of our students, our alumn and CNI College. We will keep you abreast of "what's happening" on the campus and look forward to our journey together in 2023.
Looking forward to another great year!
Warmest wishes,
Susan E. Dunn, MSEd IDOL, MSP, CPPP
Maximizing Your Alumni Experience
Being part of the CNI College Alumni Program comes with a wealth of exclusive advantages tailored to support your post-graduate journey. We understand that your connection to CNI College doesn't end with graduation. That's why we've curated a range of benefits to help you excel in your career, stay engaged with the college community, and enjoy personal growth and well-being. Explore the myriad ways in which your alumni status opens doors to a world of opportunities and resources designed to empower your ongoing success.
Invites to Career Services Events on Campus: Our alumni receive exclusive invitations to on-campus career events, providing networking opportunities and access to valuable career resources.
Inclusion in Special Events: Stay connected with CNI College by attending special events like pinnings and graduations, reliving the memorable moments, and celebrating the achievements of our current students.
Campus Visits and Speaking Opportunities: Alumni are encouraged to visit campus and share their experiences with current students, providing valuable insights into the real-world application of their education.
Career Services: Access advising, job preparedness workshops, and career preparation tips to help you navigate your professional journey successfully.
Holiday Updates: Receive information on and be highlighted in our "What's Happening During the Holidays" mailings, keeping you informed about campus activities and fellow alumni successes.
Health and Wellness Tips: Stay in the know with health and wellness tips, promoting your well-being and providing resources to maintain a healthy, balanced life.
Personal Support: Access services for personal concerns or advice, because we care about the well-being of our alumni, not just professionally but personally too.
Stay Informed: Stay updated on NCLEX, MRI Technician, and Surgical Technician test passers, celebrating the successes of our alumni in the healthcare field.
Campus Updates: Stay up-to-date with "What's the Buzz?" around campus, featuring interesting facts about students and their successes, ensuring you never miss out on exciting developments.
Join the CNI College Alumni Program today and be part of a community dedicated to connecting, communicating, strengthening, and promoting success. Together, we can continue to make a positive impact in the healthcare field and beyond.