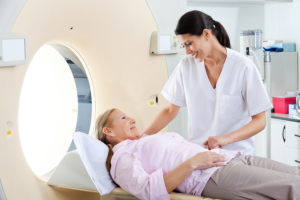 Be on your way to a new and exciting career in a little over a year. The MRI tech school at CNI College prepares students with both classroom training and hands-on practice. The course is divided into five modules. The first four modules are classroom work. Students get the foundations of human anatomy. They learn medical terminology and ethics. Professors discuss how to handle patients and develop a good bedside manner. The last module is the clinical externship. This is the longest portion of the program, at 1000 hours. It's also the most important. Students work in a clinic, learning from doctors and other MRI techs.
Take the MRI Tech Certification Exam to Get Better Jobs
After students finish their classes and externship, they study for the MRI tech certification exam. California does not require the exam to work as an MRI tech. However, most employers do require certification. So CNI College requires students to take the National AMRIT exam in order to graduate from MRI tech school. Having certification shows employers that you have the knowledge and skills necessary to work as a tech. The other advantage to having certification is that it is a national credential. That means that if you move out of state, you will take your certification with you.
Find out more about the MRI program at CNI College. Then contact our admissions office to get started on your new career path!