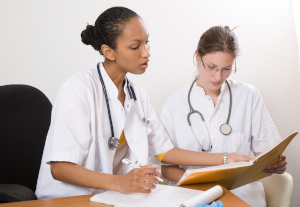 Many people are drawn to LVN certification because of the short course of study, which is only about a year. Another draw for finding LVN programs near me is that the projected occupation profile is so positive. In California, the field is expected to grow by 21% by 2024. Experts project that there will be nearly 80,000 vocational nursing jobs by then. The median salary for vocational nurses in California is just over $53,000.
So, if you're excited by the good job and earning prospects, what are the classes like? The good news is that it's not all dry and boring lectures. While there are still classroom-based courses, you will do a lot of hands-on learning. Even the foundational classes are more discussion-style than lecture. For people who struggled in high school because all the classes seemed so impractical, you'll love LVN school. Every single class is geared for learning about the body's systems so you can deliver excellent care to your future patients. Or the class focuses on a practical skill or learning about how to navigate the working environment and the laws governing it.
When Searing LVN Programs Near Me, Be Sure to Check the NCLEX Pass Rate
For many pursuing LVN certification, the best part is the senior practicum. This is where all the classes come together, and students learn how to apply what they have learned to a clinical setting. LVN students will practice their skills in a real-life setting, too. They also learn and discuss how to apply the ethical and legal guidelines of the job.
If you're interested in joining the dynamic field of vocational nursing, check out CNI College's program. It's one of the oldest and most respected in Orange County. Over the past nine years, CNI's students have averaged an 88% pass rate on the NCLEX-PN, the licensing exam for vocational nurses. Give us a call so we can get you started on the admissions process!