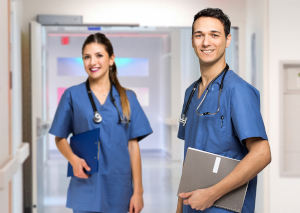 Whether you're a high school senior wondering what to do after graduation or someone who's looking to start a new career, LPN certification might be for you. Licensed professional nurse or licensed vocational nurse are just two different names for the same certification. One of the best reasons to become an LVN is job security. Most experts expect that demand for LVNs is going to expand over the next five to 10 years. This is because more people from the Baby Boom generation will be getting older and will need more medical care. LVNs get to work in a variety of settings. You can work in a doctor's office, at a hospital, or a nursing home. LVNs also do home health nursing.
Look for "LVN Programs Near Me" Online and Find a School with a High Pass Rate
To earn LPN certification, you need to first take classes at an accredited school and then pass the NCLEX-PN exam. The good news is that if you go full time in an LVN program, you can finish your classes in about a year. When you search "LVN programs near me", be sure to check the NCLEX-PN pass rate at the school you're considering. A high pass rate tells you the program really prepares students for their field.
You might be trying to decide between an LVN program and an RN program. There are pros and cons either way. An LVN program is much shorter than an RN program, but an LVN has a narrower scope of practice. RNs also typically make more money. However, if you feel like you don't want to stay in school for several years, LVN might be the right choice. In fact, you can get your LVN and work for a while. After a few years, you might decide you'd like that RN after all. There are many programs that will help you change your LVN into an RN.
Check out the LVN program at CNI College to see if it's right for you. Give our admissions office a call to get answers to your questions, then fill out the application to start your journey to licensed vocational nursing!