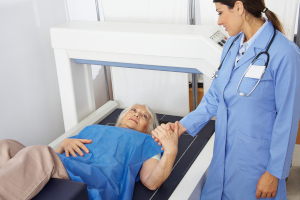 Those who have completed an MRI program and entered the workforce report a high level of job satisfaction. This is very important when choosing a job. Who wants to dread going to work everyday? MRI technologists enjoy the variety in their jobs and feeling like they make a difference. Good people skills are a must. How cool is it that you have the ability to make a patient feel comfortable and at ease? With just a friendly demeanor while asking the patient screening questions, you have the power to get the patient off to a good start. Continue the good vibes while explaining the procedure and positioning the patient on the examining table and the patient will be sure to have a good experience. Walk out of the room feeling great that you helped someone get through something difficult while ensuring they have information they need about their body.
You'll Put Your Skills and Knowledge from MRI College to Work
Yet the job is more than just good people skills. During the completion of an MRI program, students learn how to calibrate the MRI equipment and how to properly operate it. They also learn how to take a look at the images from the test to make sure they are clear and high quality. Good computer skills are also needed. MRI technologists will also likely enter patient information into the computer system. They will enter such things as patient history, the anatomical area to be scanned, and other details from performing the scan.
Once the scan is complete, the MRI technologist may also communicate test results to patients or family members. This takes a great degree of care and clarity. Other duties once the procedure is complete may include creating backup copies of images by transferring them or developing film. The job details of each MRI technologist position could vary slightly. Some may hire others to take care of the behind the scenes details. MRI college will surely prepare anyone that completes the program for the job.
Be sure to look into the MRI course at CNI College. Then get in touch with the admissions department to get started!