As the backbone of healthcare delivery, nurses play an integral role in patient care. Their expertise, competence, and level of education significantly influence patient outcomes. Advanced nursing education, characterized by higher degrees and specialized training, has been shown to have a profound positive effect on patient care. In this article, we explore the various ways in which higher levels of nursing education contribute to better patient outcomes.
Enhanced Competence and Expertise
Nurses with advanced education, particularly those holding bachelor's or higher degrees in nursing, tend to exhibit a higher level of competence and expertise. This elevated level of knowledge equips them with a deeper understanding of the intricacies of healthcare, enabling them to provide more comprehensive and effective care to patients. These nurses often have a broader perspective on healthcare issues and are better equipped to make informed clinical decisions.
Improved Patient Outcomes
Statistics and research consistently demonstrate that hospitals with a higher percentage of nurses holding bachelor's degrees in nursing experience better patient outcomes. These include lower mortality rates, reduced rates of adverse effects from treatment or hospitalization, and overall improved patient recovery. The advanced education of these nurses contributes to their ability to deliver high-quality care and respond promptly to changes in a patient's condition.
Timely Response to Health Changes
One of the key advantages of having highly educated nurses on staff is their ability to recognize and respond quickly to changes or deterioration in a patient's health. These nurses are trained to assess subtle signs and symptoms, enabling them to initiate appropriate interventions promptly. This timely response can be critical in preventing complications and ensuring better patient outcomes.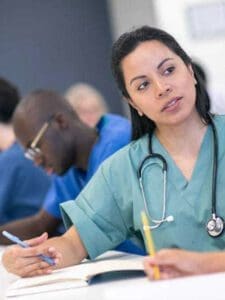 Highly educated nurses excel in caring for complex and critically ill patients. Their advanced knowledge and skills are particularly valuable when dealing with patients who have multiple comorbidities or require specialized care. These nurses can manage intricate treatment regimens, administer complex medications, and coordinate care effectively, leading to improved patient recovery and reduced healthcare complications.
Technological Proficiency
The healthcare landscape is continuously evolving with advancements in technology playing a pivotal role. Nurses with advanced education tend to be more tech-savvy, readily adapting to and utilizing the latest healthcare technologies. This proficiency enhances patient care through improved accuracy in documentation, medication administration, and monitoring. Additionally, these nurses can educate patients and their families on how to use technology for self-care, fostering better long-term outcomes.
In conclusion, advanced nursing education significantly benefits patients in numerous ways. Nurses with higher levels of education are more competent, better equipped to respond to changes in patient health, excel in caring for complex cases, and are proficient in using technology. As the healthcare field continues to advance, it is evident that investing in the education and training of nurses is not only beneficial for healthcare institutions but, more importantly, for the health and well-being of patients. With a projected increase in the number of nurses holding bachelor's degrees, we can anticipate even more favorable patient outcomes in the years to come.