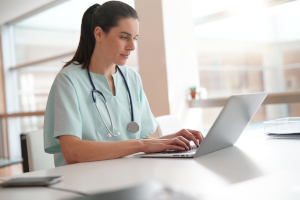 You may be wondering what kind of a job lies ahead after LVN certification. Putting it simply, the job description for a licensed practical nurse is to give basic care to patients. This is done under the supervision of a doctor or registered nurse. However, under this basic explanation, the job can take many twists and turns. LVNs can be found working in clinics, physicians' offices, or hospitals. LVN certification can also land a position in a nursing home or working in home care. The training touches on all aspects of healthcare, but some LVNs do specialize in a certain area.
The duties of an LVN can vary depending on the employment setting. For instance those working in a physician's office may find themselves doing more administrative work. This could include setting appointments or checking in patients. On the other end of the spectrum, those working in an emergency room might find themselves with more advanced nursing duties. Some other common duties of an LVN include assisting patients with bathing or dressing, measuring vital signs, and giving medication. LVN's should also be prepared to feed infants, clean and put together medical equipment, and communicate with doctors and registered nurses.
Looking for LVN Programs Near Me? Check out Their NCLEX Pass Rate
When wondering what LVN programs near me are the best, look at certification, facilities, and opportunities for hands on training. These programs usually take about a year. Students also have to pass the National Council Licensure Examination (NCLEX) to practice. An LVN program is a great option for someone wanting to get their foot in the door in the medical profession without needing a four year degree. If the time comes that you hope to advance your career and become a registered nurse, bridge programs are available to speed up the progress for LVN's. This career path provides many options to better your life and make a difference in the patients' experience as well.
Check out the CNI College LVN course to find a great program in Orange County.