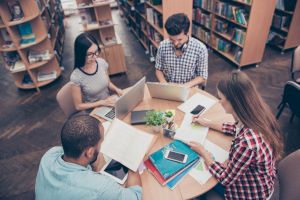 So you've decided to go to LVN school! Congratulations! You've chosen a stable and rewarding career. First you've got to finish your LVN program. Keep in mind that the program is pretty fast-paced. Before you begin, you need to have a study plan. The best approach is to set aside a certain amount of time everyday. Protect your study time. You will get too much information to just cram before exams. By the same token, factor in breaks to stretch, drink water, and relax your brain during your regular study time. You'll get more out of your time when you're feeling fresh and energized.
Take good notes during class and go over them in the evening. Some people do well with typing on a laptop or tablets, but others will get the most from writing notes longhand. Experiment with what method helps you most.
Get a study guide for the NCLEX-PN and make sure you pay attention to the topics it reviews. You'll need to know more than what's on the exam to be a good LVN. However, you will do yourself a huge favor by incorporating exam prep into your everyday study time.
Study Time is Vital to Succeed in Any LVN Program
Make flashcards and hang them up where you can see them while you're doing your daily tasks. Tape a few up on the bathroom mirror so you can memorize while brushing your teeth. Put some up near the kitchen sink to learn while washing dishes. Keep some in your purse or backpack to look at when you're waiting in line or for an appointment.
Don't just memorize facts and figures. Think about how you will use the information to help comfort patients and help them feel better. The practical side of LVN school is very important. In addition, when you know how basic facts are used in practical situations, they stay in your head better.
Know how you learn. Some people do best studying quietly by themselves. However, lots of people get the most out of a study group. If you're one of those people, form a study group as soon as you can. Schedule regular times to get together and review. You'll get more from your studies when you work with others, as well as forming life-long friendships.
Learn more about CNI's LVN program and apply today!