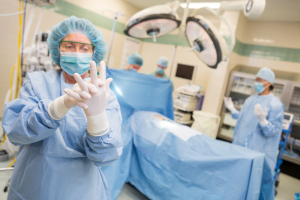 If you're considering a career as a surgical technologist, you might be wondering what your job will look like once you're done with surgical tech school. One of the major jobs of surgical techs in the surgical theater is infection control. A patient is especially vulnerable to infection during a surgery. Their skin is open and organs are exposed. The body is weaker than usual after a surgery and has a harder time fighting off an infection. A person may already have a compromised immune system going into surgery.
There are several ways a surgical technologist makes sure the surgical team keep the patient safe from infection. First, there's "scrubbing in". This means helping the entire team dress in surgical gowns, gloves, eye covers, masks, shoe covers, and head covers. There is a very specific protocol that everyone follows so that everything in the operating room remains sterile.
Surgical Tech School Devotes a Lot of Time to Sterile Technique
During the surgery, the surgical tech's job is to manage the sterile field. This means that they know and follow protocols to ensure that all instruments are sterile and are disposed of properly at the end of the surgery. They also have to make sure none of the other team members breach the sterile field. Once the surgery is done, the tech will make sure that the operating room is again sterile in preparation for the next operation.
Maintaining sterility in an operating room is so important that surgical tech students spend an entire module on it. Students learn infection control, asepsis, and sterile technique. They also learn how to apply these vital concepts to sutures, wound dressings, catheters, and other aspects of post-operative care. It's necessary that surgical techs have a good memory to keep these protocols straight. They also need to be able to catch things that are not according to protocol immediately.
If this sounds like a job you'd be good at, contact CNI College. We have a highly respected, hands-on surgical tech program. Give us a call today!