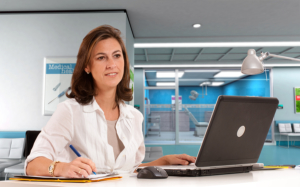 A rewarding and fulfilling career awaits those who wish to become an MRI tech at CNI College. To earn the Magnetic Resonance Imaging (MRI) Technologist Diploma, all students must complete 60.0 credit units. This career requires excellent patient care skills.  MRI techs need knowledge of physics, math, and human anatomy.  They also must have computer skills and the ability to properly operate the MRI scanner. Students learn all of these skills in the classes required to become an MRI tech. They hone them by participating in a clinical externship of 1,000 hours.
MRI Tech School Has Classroom and Hands-on Components
This course of study requires five modules. Module I includes Anatomy & Physiology I and II. Next, module II covers many topics. Students take courses in Medical Terminology, Patient Management for MRI, and Medical Law & Ethics. They also learn Pharmacology, Professional Development, and Pathology. After that, module III dives into Principles & Physics of MRIT I and II. Next is Module IV, which takes a closer look at the human body in MRIT Cross Sectional Anatomy I and MRIT Sectional Anatomy II. Finally, students move onto module V. This last module is a 1,000 hour MRIT Clinical Externship. This is where all of the training from MRI tech school comes together in a real clinic experience.
The demand for MRI techs is growing rapidly. CNI's program is approved by the American Registry of Magnetic Resonance Imaging (ARMRIT). Once finished with this course of study, students can choose to become an MRI technician right away. They can also decide to take the industry national certification examination from the ARMRIT. Passing the exam and getting certified allows students to become an MRI technologist.
Find out more about the MRI program at CNI College.