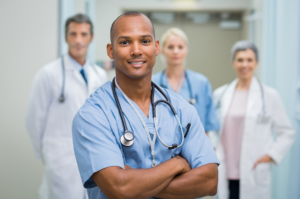 People who are looking into nursing school need to decide what kind of credential to get. LVN certification is one option. To get it, students go to school full time for around a year. Part time students take around 18 months to finish. If you search "LVN programs near me", you'll find that many programs include clinical practice. When done, students pass the NCLEX-PN exam and then can apply for jobs. However, there are limits to the scope of practice for LVNs.
Some students will want to weigh the options for LVN and RN. There are several paths to get an RN. An associate degree in nursing takes around two years, while bachelor of science in nursing will take four years. A final option is to earn a nursing diploma, which takes around three years. Whatever path students take, they then sit for the NCLEX-RN exam. Once they pass it, they are ready to practice nursing.
Search LVN Programs Near Me to Find CNI College
The scope of practice for an RN is quite a bit wider than that for an LVN. LVNs always work under the supervision of an RN or a physician. RNs practice with a lot more independence. Both RNs and LVNs will take vitals and discuss basic health concerns with patients. RNs are able to do more patient education, as well as operate medical equipment and consult with physicians.
While RNs have more they can do, many people are not ready for the long commitment of time it takes to earn an RN. Students who have just finished high school might feel they want to get a job as soon as possible. Older students, going back to school after working for a while, may feel pressure to get an education quickly and get back to work. For these students, the fact that LVN certification only takes a year is a huge advantage. Keep in mind that there are many programs that can help an LVN earn an RN. These programs tend to be flexible so that students can continue to work while in school.
Take a look at the LVN program at CNI. As an accredited school, we offer excellent teaching as well as hands-on practice.