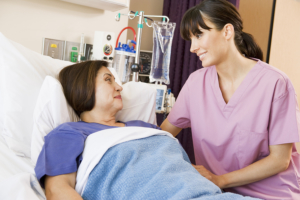 There are many reasons that job satisfaction is high among those who have completed LVN programs. First of all, it is a great career with many options. Look for a job in a hospital, in a doctor's office, or a surgical setting. There are also opportunities in psych, hospice care, or other areas of specialty. Try out different areas until you find your niche. You could even work part time as a vaccination nurse for special clinics or look into other part time options. Work as an LVN your entire career or go on to become a registered nurse or pursue another area of healthcare. This can be the first step or it could be the job you will have as long as you work.
Go to LVN School and Start on a Fulfilling Career
There is job security in the healthcare industry. Those who finish LVN programs know that people will always be getting sick or injured and need care. There will always be jobs. The pay is also good and the stress level is fairly low. Big decisions and liability should not fall on your shoulders. Many who have finished LVN school report that it is satisfying to interact so much with the patients. There is an opportunity to teach and relate to people. Get to know patients and ensure they have a pleasant experience. RN's are often stuck to a computer or phone and are constantly pressed for time. An LVN is often the face patients remember. They can feel a personal connection and appreciate feeling cared for.
Right out of the gates, this job is awesome because you can get going easily. LVN school is relatively inexpensive and does not take very long. You could also move anywhere in the country and find a job as an LVN. If you are dependable, do a good job, and are liked by coworkers and patients, you will go far.
Get more information about LVN school at CNI College to see if it's right for you.