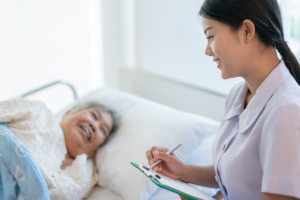 If you're checking out different LVN programs, you might wonder about what the career path of an LVN looks like. Of course, the first step is to graduate from an LVN school that is approved by the state board of nursing. Keep in mind that your time in school isn't just about checking off course requirements. Get to know your professors so they can write strong letters of recommendation for you when you're looking for your first job. You can also discuss different settings you can use your LVN certification. As you go through your classes, pay attention to which subjects really spark your interest. Those are probably good ones to pursue when looking for clinical internships and a job.
As You Work on LVN Certification, Develop a Good Bedside Manner and Communication Skills
While it's very important to study hard and do well in your courses, you also need to develop good interpersonal skills. The LVN is often the first healthcare provider a patient meets at an appointment. At a nursing home, the LVNs do much of the day to day care. Being a cheerful, calming presence will help set your patients at ease. Being able to communicate clearly with patients will help them feel more trusting and comfortable with their care. These skills aren't measured by an exam, but they are still very important.
Passing the NCLEX-PN is the final step in becoming certified to work as an LVN. If you want to specialize, you can also look into additional certification. For instance, you can pursue a certificate in gerontology, pharmacology, and long-term care. Talk to your professors if you are interested in an extra certificate, and they can help point you in the right direction.
It's a good idea to start researching LVN programs now. There are many reasons the career is expanding. Many current LVNs are retiring or will in a few years. The population of senior citizens is also growing, which means more will be in assisted living. There is huge demand for LVNs to help care for the elderly. In California, there are more than 3,000 job openings every year. The demand for LVNs grows by over 22% every year. The starting salary for an LVN in Los Angeles or Orange County is around $33,000 per year.
Anyone interested in becoming an LVN should check out CNI College. We're located in the city of Orange and have a great track record of students passing the NCLEX-PN. Give us a call so we can schedule an appointment for you to see the campus and meet the professors.