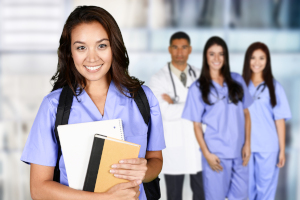 Do not let the cost of school turn you away from LPN certification. Financial aid is available. Before doing anything, think about if you meet the eligibility requirements for financial aid. You must be a citizen of the U.S. or eligible permanent resident and enrolled in an eligible program. You also must be making progress toward graduation and not in default on any financial aid loan. Males must also register with the U.S. Selective Service if applicable.
Federal Financial Aid is Available for Eligible LVN Programs
If all of these requirements are met, first time applicants must fill out the Free Application for Federal Student Aid (FAFSA). This form asks for all information needed to determine your Expected Family Contribution "EFC." You must fill out this form online at FAFSA.edu.gov. Authorize Career Networks Institute to view your information by putting in school code 032423. When filling out the FAFSA forms, you will also need a Federal Student Aid ID (FSA ID). This can be obtained at studentaid.gov/fsaid. Use this ID every year to sign your forms and access your records online.
If you are still a dependent and your parents are filling out the forms, they will need their own FSA ID. Wait until you have your tax return to fill out the FAFSA. You can estimate income on the FAFSA, but it would have to be corrected after tax time anyway. Keep in mind that you must fill out a new FAFSA every year you are seeking LPN certification. It will not renew automatically.
Once you have filed FAFSA forms, you will get your financial need determination. Your financial aid for LVN programs will likely consist of funding from federal, state, and private agencies. There are two main types of aid. Grants usually do not require repayment, while loans do. There are also different types of loans with varying policies on repaying the principal and interest. Make sure to do your research so you understand repayment responsibilities for the loans you take out.