The Secrets Behind Nursing School
What's It Like, How to Choose a Program, and How to Excel
If you've been considering enrolling in nursing school, we can't blame you — it's an in-demand career with a bright outlook, with positions for registered nurses expected to grow by 11% through 2031. Nurses in the United States are growing in visibility, with more and more people recognizing how vital of a role they play in compassionate, patient-centered medical care.
But jumping into a nursing program can also be intimidating. What will it be like? What can you expect? What can you do to set yourself up for success? We take on these questions and more in the article below as we try to pull back the curtain on nursing school.
How Do I Become a Nurse in California?
For those interested in becoming a registered nurse, the California Board of Registered Nursing has laid out the steps you'll need to take in order to ready yourself for this career. They include:
Another option is becoming a licensed vocational nurse (LVN), a position tasked with basic nursing care responsibilities that also requires less time in school before you're ready for entry-level employment. LVN programs often take 12 months to earn your diploma, readying you to apply to the California Board of Vocational Nursing and Psychiatric Technicians and sit for your LVN licensure exam.
What Is Nursing School Like? Are They All the Same?
All nursing programs are definitely not created equal, and you should for sure do your research on any schools you're considering, including talking to school staff and faculty and potentially even alumni. No matter which program you choose, however, there are a few things that all nursing schools have in common:
Get ready for an intense information drop
Nursing school requires taking in a lot of new material, from basic anatomy to pharmacology to advanced practice in labs and clinicals. It can definitely be a demanding study track, and you should mentally prepare now to carve out some study time in your schedule in order to process everything you're learning.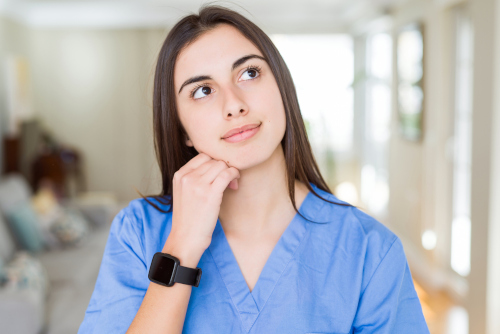 Embrace the power of the cohort
Quite a few nursing programs utilize "cohorts," which basically just means that, because of the way courses are structured, the people you start your first quarter with will likely be your classmates right through to graduation. This can be really helpful in terms of building connections and creating a support system to help one another through. Cohorts are also a great opportunity to find others with similar learning styles that you can work with.
Don't panic about wielding a needle just yet
If you've got the jitters about working directly with patients, take a deep breath. In most nursing school programs, you're going to be starting with introductory nursing concepts, communication, and the essentials of human anatomy. By the time you get to hands-on clinical practice, you'll have your feet under you.
Recognize you won't just be challenged academically
Because nursing is a career centered around patient care, some of them at their medical worst, it's important to recognize that a nurse education is going to challenge you beyond the classroom. It can also take a toll on your physical and mental health, so you'll need to take extra care of yourself.
What's the Secret to Being Excellent at Nursing School?
We'd probably say that the number one thing is to be passionate about helping people in a caring, conscious way. But beyond that, there are several things you can do to not just survive nursing school but excel at it.
Grab a daily calendar if you don't already have one
Because nursing school is a time commitment, you're going to have to make sure you're managing your hours as best you can. Use a daily calendar or habit tracker app for time management to block out study time and keep track of upcoming projects or tests.
Don't leave it all to the last moment
From one procrastinator to another, that tendency to cram is just going to bite you in the you-know-what during a nursing program. It's too much information to process in one all-nighter. Break up your work into manageable segments to stay on top of everything you're learning.
Create or join a study group
Remember the power of the cohort? It helps here, too. Even having just one study buddy can help you keep yourself accountable, boost your motivation, and give you new perspectives on what you're studying.
Take practice NCLEX tests
This isn't probably one to break out during your first quarter or anything, but as you get to the back half of your nursing school program, it's a good idea to check out the preview exams and sample questions on the NCLEX website. Not just because it's good practice, but because it can give you a much clearer idea of what to expect when you sit for your licensure. And the more we know about something, the less scary and mysterious it becomes.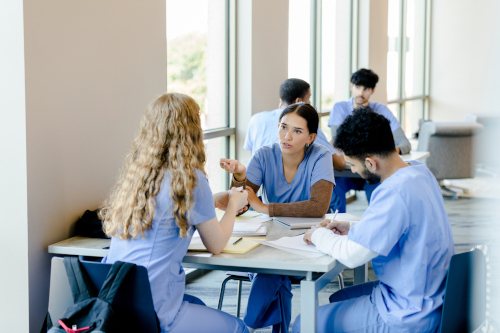 Can You Go to Nursing School Right After High School?
Yes! Like many career-focused programs, nursing schools are an extremely viable option for new high school graduates who are looking for a hands-on, patient-centered healthcare career. If you are at least 17 years of age and have your high school diploma, GED, or 12th grade proficiency, then you are qualified to fill out an application for the nursing program of your choice.
How Do I Choose the Best Nursing Programs?
There are a lot of aspects to consider when it comes to choosing the best nursing program for yourself, and your answer might differ from someone else who has different educational needs than you do. But here are a few things to look for and consider:
Program accreditation — Enrolling in an accredited program means that you are learning at an institution that meets certain quality standards. Accredited programs are also far more likely to effectively prepare you for licensure examinations.
Program format — Not everyone is in a position to commit to driving to campus day in and day out over the course of their program. Luckily, there are now programs even at the BSN level that blend online and in-classroom learning to better fit into people's busy lives.
Cost and time — Studying to be a nurse is a time commitment, and you need to be clear upfront about what you can afford to spend. A university-based BSN program could take up to four years and tens of thousands of dollars, but other BSN programs are available that can utilize your time and money a lot better. CNI College, for instance, has a Bachelor of Science in Nursing degree program with no waitlist that can get you from enrollment to graduation in just 31 months. Meanwhile, a Vocational Nursing Diploma can take as little as a year of nursing school.
Now Is the Time to Train to Become a Nurse
Right now, California is experiencing a state-wide nursing shortage, which means it is the perfect time for anyone who's thought about pursuing a career in nursing.