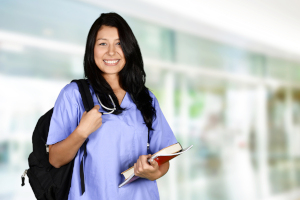 Anyone thinking of pursuing LVN certification will need a plan for how to pay for tuition. You'll find a range of prices when you search for "LVN programs near me". In Orange County, most schools charge a little more than $30,000 for an LVN course. Then you need to factor in how much books and supplies will cost. The average is around $2,500. Finally, there is the cost of the NCLEX, which is $200.
Most students will apply for financial aid. There are two main types of financial aid–grants and loans. Grants are "free money", meaning that you don't have to repay them. Loans do have to be repaid. Grants and loans are awarded based on merit and need. You can also research and apply for scholarships, which are another type of "free money". The state or federal government typically gives grants, while private entities grant scholarships.
Search "LVN Programs Near Me" to Compare Tuition Costs
The first step to getting federal financial aid is to fill out the FAFSA (Free Application for Federal Student Aid).  Students who don't already have a bachelor's degree and who can demonstrate financial need can qualify for a Pell grant or Federal Supplemental Education Opportunity Grant (FSEOG). Neither one has to be repaid, as long as the student stays in school during the award period.
There are also several kinds of federal student loans. Some are based on financial need, while others are open to students of any income level. Keep in mind that loans must be repaid, whether you complete LVN certification or not. Be sure you are ready to commit to the work required to become an LVN.
You also need a plan for how you will handle living expenses while you are in school. LVN classes run either from 8 a.m. to 3 p.m. or 5 p.m. Think carefully about how you will manage your study time and if it's reasonable to expect to work in addition to school work. For some people, it makes sense to take some time to work and save money before starting an LVN program or other vocational program.
You can learn more about financial aid at CNI College by visiting the website.