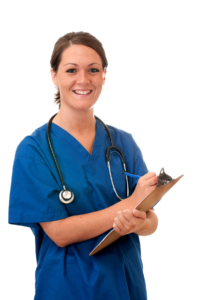 Students enrolled in a medical assistant college lead the charge in the medical world. Medical assistants have a unique relationship with doctors and nurses. These valued employees serve in a supportive role. And this often frees up other staff. Assistants support doctors and nurses in their daily roles. Medical assistants regularly interact with patients.
Medical assisting tech schools teach the skills necessary for a successful career. After finishing, graduates find themselves on the right path for a fulfilling medical career. Assistants often carry out both clinical and administrative duties. The healthcare industry welcomes medical assistants with open arms. Their salaries are less expensive than nurses and doctors. This means that positions are easier to find.
Medical Assisting Tech School Lasts Less than Two Years
Earning a degree at a medical assistant college is easily done. Focused students follow a clear path to success in the industry. Students complete most programs within a couple of years. Colleges help students with job placement and financial aid. Grads find themselves in career positions in very little time.
There are many benefits to becoming a medical assistant. The short amount of time to complete school gets graduates working fast. And, the educational cost is much less than medical or nursing school programs. Jobs are more plentiful. Also, the work is hands on. Those who like helping people should consider medical assistant training.
Check out CNI College to learn more.