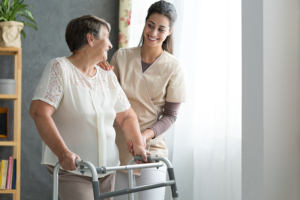 If you're looking in to LVN programs, be sure to check out LVN school at CNI College. What sets CNI apart from other LVN programs? The high pass rate for the NCLEX exam for one thing! Since 2009, the college has had an average pass rate of 88%. Once students have passed the NCLEX, they can apply for jobs as LVNs, so this is crucial. While rigorous, the CNI program also offers a lot of flexibility. Day, evening, and weekend classes are offered. Students choose between full time and part time tracks. There are four terms. A full time student will finish one term in 13 weeks, while a part time student will take 20 weeks.
LVN School Has a Good Blend of Practical and Theoretical Knowledge
The LVN career path offers a lot of advantages. LVNs get to work directly with patients. They are often the first medical person a patient will meet at an appointment. An LVN with good clinical knowledge and a caring bedside manner will help patients feel more at ease.
Most LVN programs are a good mix of classroom lectures and hands-on learning, and CNI is no exception. In each class, students participate in class discussions and lectures. Most classes also have a practical section, so students can hone their skills in real-life situations. Courses cover all the major systems of the body and the major specialties in medicine. Once students have mastery of the basics, they are ready for the senior practicum. Students will gain clinical experience as they transition from student nurse to vocational nurse. They also learn a lot about the legal and legislative side of nursing. Malpractice, ethics, legal codes, and informed consent are each discussed at length. Students also learn about professional organizations related to vocational nursing.
Be sure to look at the LVN program at CNI College. Check out at the course descriptions, and read about the employment projections for LVNs. When you're ready, contact the admissions office so you can get started on the path to being an LVN.