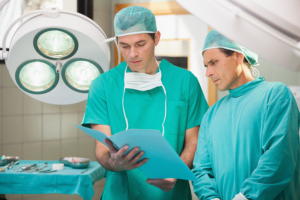 The role of a surgical technologist in an operating room is critical. The tech is responsible for assembling equipment, sterilizing instruments, and helping surgeons gown up. They also prepare the incision site. Techs transfer patients to the operating room. They help get patients set up on the operating table, and check their vitals signs during the surgery. During surgery, techs hand instruments to the surgeon and help prepare lab specimens. All of these tasks require lots of practice so that the procedures are second nature. Hands-on training is paramount in surgical tech school. CNI College understands this fact. That's why so much of our program focuses on taking students through mock surgeries. The program devotes an entire module of the six-module program to mock surgery practices.
Attend a Surgical Tech School That Offers Practical Skills Building
The sixth and final module is the 500-hour externship. This takes place at an approved site. Students learn from surgeons, anesthesiologists, nurses, and already qualified surgical techs. These professionals help students refine their techniques. The externship also helps students to develop mentoring relationships that will help them as they enter the workforce. It is so important that a surgical technologist has had plenty of supervised practice before entering the surgical theater after graduating. The importance of hands-on training cannot be overstated. Find out more about becoming a surgical tech through the rigorous program at CNI College.