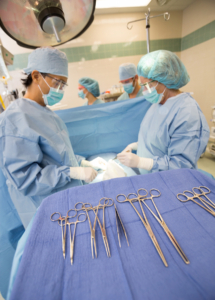 If you're thinking about starting a new career, consider surgical technician college. In about a year, students gain all the skills they need to sit for the National Certifying Examination. CNI College is a great school for surgical tech. First of all, students get a strong foundation in anatomy and physiology. They learn surgical asepsis as well. Once they grasp the basics, surgical tech students go on to learn about the ways different types of surgeries are performed. They learn the differences in general surgery and surgeries for children. They also learn about how to do surgeries on different areas of the body.
School for Surgical Tech is Only a Year Long
After students have learned the theory of surgery, they are ready for hands-on training. There are four modules for mock surgery. In these modules, students learn the role of the surgical tech in many types of surgeries. They practice all the steps of aseptic technique, too. Once students pass mock clearance, they go on to the clinical externship. The externship is 500 hours. Students first observe surgeries and follow the lead of a certified surgical tech. Finally, after they have enough observation, they help with surgeries. In this way, they learn to work with other surgical techs. They also find out how to be on a team with surgeons, nurses, and anesthesiologists.
Visit CNI College to learn about surgical technician college.