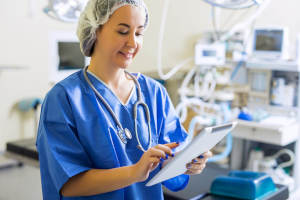 While most people think of doctors and registered nurses when they think of the medical field, there are lots of other types of professionals. Not all of them require a college degree. Becoming a surgical tech is a great job opportunity. The certificate takes only a little over a year to finish. Entering students are required to have a high school diploma or an equivalent. The cost is also significantly less than nursing or medical school. At CNI College, the surgical tech school costs around $33,000 for tuition, books, and fees. The program is eligible for federal student aid, too.
Surgical Tech School Is Great for People Who Like Hands-on Learning
Being a surgical tech is an ideal job for someone who enjoys practical work and interacting with patients. Surgical technicians are responsible for getting the operating room ready for the procedure. They also get patients ready to go to surgery. It's important that surgical techs develop good communication skills. They will often help patients feel calm and may answer some patient questions. They also need to communicate effectively with the doctors and nurses during the surgery. Techs pass instruments and supplies and help with some aspects of the surgery itself. They need to have a good head for detail, too. When the surgery is over, they will help count up the supplies used and replenish the stock for the next surgery.
Surgical technology students have a combination of classroom lectures and hands-on learning. They take classes and participate in mock surgeries. The last 500 hours of the 1100 hour course is spent in an externship. This means that students work in a clinical setting to get real-world experience.
The field is growing. Experts estimate that there will be 10,800 openings for surgical techs in California by 2024. It's also a field with good pay prospects. Techs start out at around $40,000. The median salary is $60,000.
Check out CNI College's surgical technology program. If it sounds right for you, get in touch with our admissions office!