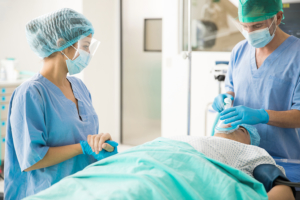 Surgical school to become a surgical assistant, or scrub tech, is a great choice for many people. To start, students must have finished high school or eared a GED. The program should take 15 months to complete. So the program is much shorter than getting a bachelor's degree. The cost is $27,996 for tuition and another $1,452 for books and supplies. Students can apply for federal financial aid to help cover the costs. However, remember that you must pay back loans whether you finish the program or not. Check out our other posts on financial aid. See more about costs and job placement after graduation in the gainful employment disclosures.
Become a Surgical Assistant in a Hands-on, Practical Program
The surgical tech program at CNI College is very hands-on. Most classes have a classroom and a lab component. Even the classroom portion of classes is very lively. Instructors encourage students to ask questions. Many graduates remember lively class discussions with fondness. The program is divided into six modules. Each one builds on the last. Module five concentrates on mock surgery. It is more lab than lecture. The program culminates in module six. This is where students are assigned to a clinic for their externship. This is when they put all their classroom discussions and drills to practical use.
Read more about surgical school at CNI College. When you're ready to start in this exciting career, give the admissions office a call!