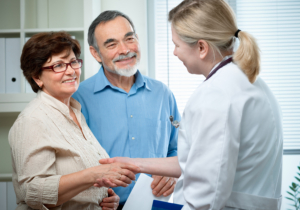 Much of surgical assistant training focuses on learning the skills needed to keep an operating room running smoothly. Students also drill in aseptic technique and other surgery skills. However, one of the other important skills students work on is a good bedside manner. Often, the surgical tech is the person who gets patients ready to go to surgery. This means they see patients when they can be a bit scared and vulnerable. Once you've been through surgical physician assistant training, surgery is just part of your day to day life. But for patients, it's a rare occurrence. This can can cause a lot of anxiety for people. They may be having surgery to deal with a difficult diagnosis. A surgical tech who can put patients at ease is a huge asset to any surgery team.
Surgical Physician Assistant Training Is the Time to Learn Patient Skills
During surgical assistant training, students have several opportunities to develop skills with patients. They take a patient psychology class in one of their modules. This class will give insights into how patients are feeling before surgery. During the externship, students will also be working with patients. It's a good idea to watch the other surgical techs and see which ones are able to help patients relax. Watch how they talk to patients. Learn how to answer common patient questions. Leave extra time so patients can talk to you and get answers. Research has found that patients who trust their caregivers are more likely to recover fully and do better overall. The "soft skills" of treating patients with kindness and compassion are important to master, along with all the concrete techniques for safe surgery.
Find out more about the surgical technician program at CNI College. Apply today and start on the path to a great career.